Engaging the Community in the Creation of a Trauma-Informed Curriculum for Group Well-Child Care at Codman Square Health Center
Vital Village Network Emerging Leader, Lauren Graber, MD was recently awarded a Kraft Fellowship in Community Health Leadership. Learn more about the trauma-informed group-care model Lauren has helped design at Codman Square Health Center, the origins of this innovation pilot, what has happened over the past 90-Day Challenge, and Lauren's aspirations to learn about leadership in community medicine.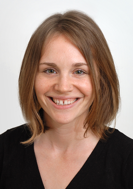 For many moms at Codman Square Health Center, going to the doctor is the highlight of their month. While this may sound unusual to those of us who consider a physical just another item to check off our to-do lists, these moms are coming in for something special—group medical care. These visits bring moms together during the critical and often challenging first year of their child's life and, through this shared experience, help them build social support systems and form lasting bonds with each other. One mom told me, "My favorite thing about group is meeting and interacting with other moms, sharing feelings, thoughts and getting professional feedback, along with getting up-to-date information on my child's development. The group medical visits have aided me in my preparation for parenthood. Group prepared me for certain challenges and gave me insight on how to deal with these challenges. Today I am a more mature and responsible adult than I was prior to group."
This innovative medical model combines three major components of care—health assessment, education and support—within a group setting. During the first year of their child's life, moms with babies of similar ages gather together for nine group well-child visits (visits are monthly for the first 6 months and then every 2 months and are based on the pediatric immunization schedule). These visits are facilitated by the baby's primary care provider and are 2 hours long, rather than the standard 15 minute medical visit, which allows for more in-depth discussion of the parents' questions and concerns, appropriate anticipatory guidance and developmental stages and milestones. Also, by using a case manager as a co-facilitator, group medical visits integrate access to social resources and increased support for struggling parents, which is especially critical considering the population that Codman Square Health Center serves.
Many group patients are coming from low-income neighborhoods in Boston and are dealing with serious life adversities such as homelessness, food insecurity, or domestic violence. The toll that traumatic circumstances like these takes on those experiencing them on a day-to-day basis is known as toxic stress. In a child, toxic stress can occur when they experience strong, frequent and/or prolonged adversity—such as physical or emotional abuse, chronic neglect, caregiver substance abuse or mental illness, exposure to violence, and/or the accumulated burdens of family economic hardship—without adequate adult support. This kind of prolonged activation of the stress response systems can disrupt the development of brain architecture and other organ systems, and increase the risk for stress-related disease and cognitive impairment (Harvard University Center on the Developing Child).
As we know, being a parent is difficult enough without the added stress of having insufficient diapers, living in a crowded shelter, or not knowing where your next meal will come from. During their group visits, providers at the health center were continually hearing their parents ask for better ways and resources to manage stress and be more supportive parents. In response to these needs, the Maternal Child Health team at the Codman Square joined in collaboration with the Vital Village Network over three years ago to being exploring ways to enhance parental resilience and address toxic stress and protective factors in group well-child care.
Spearheading these efforts as part of the "Innovations in Group Well-Child Care" pilot project are the Director of Maternal Child Health and Group Visits, Sanam Roder DeWan, and Manager Melissa Ryan, along with Tamiya Tabb, a Parent-to-Parent case manager. With support from the Vital Village Director, Renée Boynton-Jarrett, and BUSPH MPH candidate Milki Tilimo, the team reviewed existing trauma-informed and primary care group-based models, hosted discussions with Codman Square multidisciplinary staff and clinicians, conducted a needs assessment with patients, and began to envision a participatory-action research model. Momentum rose around preventing and mitigating toxic stress in order to promote health and well-being and slowly they began crafting a new group well-child care model.
Lauren Graber, a 3rd year resident in Family Medicine at Boston University joined the team as a Vital Village Network Emerging Leader in 2014. Lauren's project has included introducing trauma-informed participatory learning activities into the group well-child visits focusing on three areas—attachment, play and toxic stress—and designing a trauma-informed group curriculum. Partners collaborated to design the group activities and incorporated several successful existing models and feedback from clinic patients and providers. In October 2014, the first iteration of the curriculum was rolled out to group providers and Lauren trained the family medicine residents before each group.
90-Day Challenge: Co-Design Opportunities in Plan-Do-Study-Act (PDSA) Cycles
Since the introduction of the new curriculum, I have been observing all of the visits, tracking the use of learning activities and associated discussions, and hosting debrief sessions with the group care teams to evaluate the success of incorporation. As part of this iterative process, we have also engaged moms in three focus groups to gather feedback on ways to enhance group care and the trauma-informed curriculum pieces. Now, as we launch into our second PDSA cycle, we are planning to hold monthly parent advisory committee meetings to continue incorporating caregivers in the co-design and improvement of this curriculum.
Inspiration and Community Health Leadership
When I asked Lauren what sparked her interest in group medical care, she told me, "I heard a piece about the Harlem Children's Zone maybe 8 or 10 years ago about their Baby College. In the Baby College, they start with pregnant parents and ask them two pivotal, life-changing questions: What are some things you want to do as a parent that your parents did? What are some things that your parents did that you don't want to do? I found these questions to be an amazing way of reflecting, becoming intentional parents and breaking the cycle of abuse. I can tell all of my patients to stop smoking and they say, "Thanks person who doesn't understand me at all," but it coming from someone in a group can support that change. That's the essence—meeting people where they're at."
When asked what she loves about group care, Lauren said, "The shared teaching part of it and community around it makes it so meaningful. Everyone can contribute to the group and that's more empowering than our patients get in individual care."
Lauren was recently awarded the Kraft Fellowship in Community Health Leadership, which she will start in June once she completes her residency. The Fellowship is a two-year program to prepare a new generation of physician leaders who will contribute to the field of community health and lead the development of new models of collaboration between academic medicine and community health centers. As a Kraft Fellow, Lauren will be embedded within a Boston community health center and will help them learn about making local change while completing her Master of Public Health from Harvard University. While Lauren can't exactly say where she'll be going or what her project will be, she anticipates that it will be similar to the work she's been doing around trauma-informed group care. We are so thrilled for Lauren and would like to offer our sincerest congratulations on behalf of the entire Vital Village Network! We know Lauren will continue to do great things for the community in her new role as a Kraft Fellow.