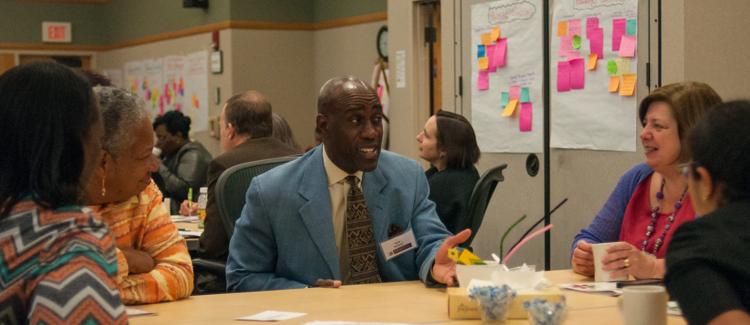 Changing the paradigm. Using a trauma-informed lens to align systems of care and education in early childhood to promote equitable and optimal growth and development.
Networks of Opportunity for Child Wellbeing Projects

Networks of Opportunity for Child Wellbeing (NOW)
, an initiative of the Vital Village Network at Boston Medical Center, was launched in 2016 with the support from the Robert Wood Johnson Foundation and led a strategic planning process to design a robust infrastructure to support the development of networks of opportunity across prenatal through early childhood systems for optimal wellbeing.
Community-based solutions are central to any effort to achieve equity.
NOW builds on Vital Village's network approach to build the capacity of other local communities and coalitions across the country working to: promote child wellbeing; align systems of care and education in early childhood; and improve neighborhood opportunity structures that promote optimal wellbeing and reduce inequities in child health and education – all through a trauma informed lens.
Between 2018 and 2020 the NOW Learning Community will support the selected communities build a robust set of knowledge, skills, and tools to scale and sustain equitable transformation of early childhood, education, and health systems in their neighborhood, city, or county. Each recipient will receive in-depth, and tailored technical assistance in key capacity-building areas – such as utilizing equity tools and frameworks; mobilizing community leaders; using data and storytelling tools; and communicating with diverse stakeholders – in order to build a strong and healthy foundation for all children and families.
The learning community will also be supported through the NOW Innovation Forum, which will promote learning and networking across the country among recipients. Anticipated to be relaunched this Fall, the communities will be able to share toolkits, stories, model innovations with the other sites.
Visit the NOW Innovation Forum
HERE