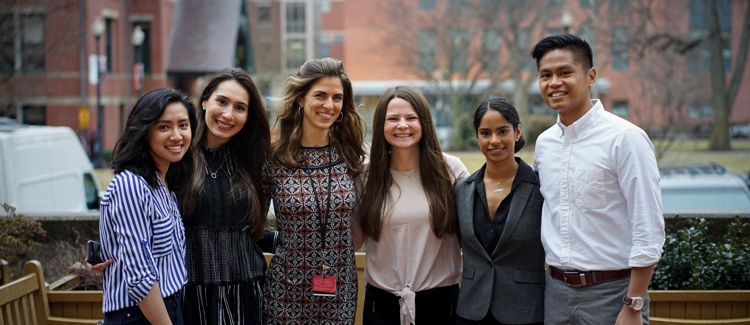 Looking for research experience?
The CRADLE Lab is currently looking for interns who can volunteer their time to help our study team.
Email hassan.lubega@bmc.org for more information!
We are seeking volunteer Research Assistant interns to help within the CRADLE Lab, which is housed under the Vital Village Network and the Department of Pediatrics at Boston Medical Center. We are implementing a national multi-site, cluster randomized trial aimed at evaluating the impact of the group well-child care model of primary care vs. routine care on new babies and mothers. Known as the C-K-READY study, our work explores the impact of care models on child development and school readiness at 12 and 24 months. We partner with several pediatric practices across the United States to conduct this research. In addition to the C-K-READY study, the CRADLE Lab team engages in other community-based, participatory research projects and seeks to establish a collaborative research network for family and child wellbeing. This is an excellent opportunity for anyone interested in pediatrics, public and community health, child development, and health services research. Students seeking internship or practicum opportunities will have the chance to learn the ins and outs of research!
The principal responsibility of the RA will be to administer a standardized phone questionnaire to participants (new caregivers) and engage in recruitment calls. Additional responsibilities include assisting with recruitment calls, administrative duties related to project implementation, and database entry and management.
Requirements:
Must be conversationally fluent in Spanish.

Experience interviewing or administering research surveys and protocols (Preferred not required).

Ability to communicate effectively (via telephone).

Flexibility to work evenings and some weekends as necessary.

Time commitment required is minimum of 10-15 hours/week

Hybrid work schedule: half of the weekly hours will be completed on site at Boston Medical Center

Must commit to at least 1 year internship.

First 3 months involve a comprehensive skills training program on research ethics, study recruitment, interviewing skills, and survey delivery

UROP funding is an opportunity available after 6 months of service.

Will sponsor BU student undergrad senior practicums during fall 2023
Specific duties and requirements are listed below:
Enrollment of parents into research study.

Administer standardized research protocol to participants using REDCap, our electronic data capture system.

Maintain electronic and paper files of participants and file systems.

Participate as a research team member with Principal Investigator(s) and study team.

Attend team meetings.

Comply with BUMC Research/HIPAA standards.
Benefits:
Work with a team of mission-oriented, multidisciplinary students and staff

Hone skills in research including but not limited to interviewing participants, literature reviewing, database quality control and management, and presentation

Opportunities for research conference participation and presentation

Exposure to community based participatory research and innovative community development work of Vital Village Networks
Thank you for your interest!
About Boston Medical Center
At Boston Medical Center (BMC), all are welcome and treated equally. The best and brightest physicians, representing virtually every medical specialty, choose to work here for the opportunity to make a difference in their community and beyond. Unwavering in its commitment to the community, BMC is a private, not-for-profit, 496-bed, academic medical center located in Boston's historic South End. The primary teaching affiliate for Boston University School of Medicine, BMC is the largest safety net hospital and busiest trauma and emergency services center in New England.