Neighborhood Safety and Child Wellbeing
We are working to leverage existing data systems to establish benchmarks for assessing the well-being of children and indicators of risk and protective factors. Our goal is to improve the quality of data and tools that allow community residents and community institutions to promote family and community safety. We hope these benchmarks and shared data system will be a catalyst for community engagement and accountability.
What We Know
Although an estimated 98% of Boston's children are covered by health insurance, rates of obesity are higher in Boston than those in the state of Massachusetts and in the nation. These rates are notably higher among children of low-income households (Finkelstein, Trogdon, Cohen, & Dietz, 2009). Children living in low-income families in Boston are more likely to live in areas with higher violent crime rates (Lipton, Yang, Braga, Goldstick, Newton, & Rura, 2013). Existing literature suggesting that children exposed to stressful events are more likely to experience negative health outcomes.
Our Approach
We wanted to explore the relation between violent crime exposure and cardiovascular health outcomes (obesity and high blood pressure) among children enrolled in the MassHealth insurance program. We looked to see if there were disparities in the relationship spatially and by neighborhood.
The spatial and neighborhood-level analyses indicated that there is a statistically significant relation, at the census tract level, between violent crime rates and two negative, cardiovascular outcome rates: obesity and hypertension. Median household income was also significantly associated with both outcomes. The analysis suggested that the relationships are different across space and between neighborhoods. The predicted rates of hypertension and obesity based on rates of violent crime and income are mapped below. Census tracts neighboring a significant number of other tracts with high violent crime rates are outlined in red.
Preliminary Recommendations
BMC Vital Village Network cultivates cross-sector partnerships to optimize child wellbeing by building family and community level protective factors. We are working to establish a platform for tracking benchmarks of child wellbeing. We recommend:
Reorienting crime reduction efforts to highlight expanded public health benefits of violence prevention
Focusing crime reduction efforts in neighborhoods with highest predicted obesity and hypertension rates.
Increasing community resident and policymaker awareness of the relation between neighborhood crime and poor cardiovascular outcomes for children and the inequities in geographical distribution of crime, particularly in Mattapan, Dorchester and Roxbury.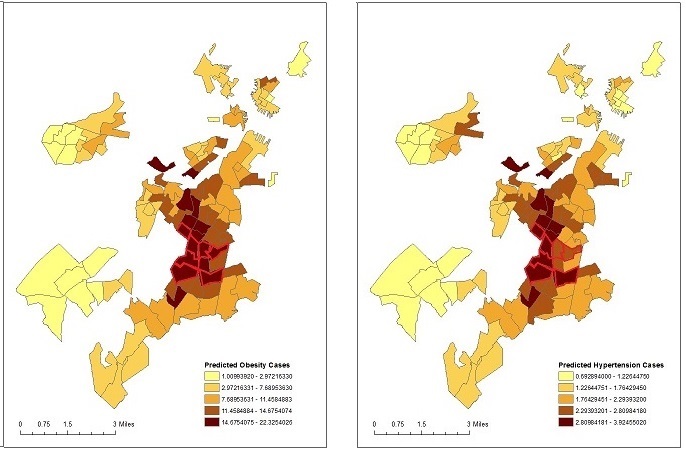 Please check out our recent webinar hosted by PolicyLink on Data Tools for Change using the Child Opportunity Index,